United Enertech FDD-SC Round Dynamic Curtain Fire Damper Horizontal or Vertical Mounting
United Enertech FDD-SC Round Dynamic Curtain Fire Damper Horizontal or Vertical Mounting
By United Enertech
$134.00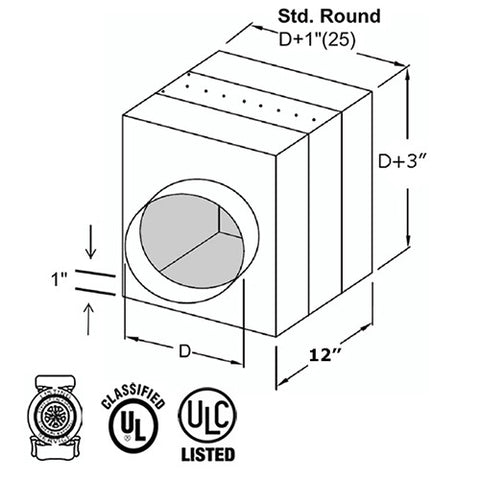 FEATURES:
Type C Curtain Fire Damper with integral Sleeve for round duct.
May be installed Horizontally or Vertically.
For use in Dynamic or Static HVAC Systems.
U.L. 555 Classified 1-1/2 Hour Fire Damper. 100% free area.
165 Degree F U.L. Listed Fusible Link.
Material: Galvanized Steel Frame, Sleeve and Blades-SS Spring Loaded.
Collars are fabricated 1/4" under listed duct size.
Meets or Complies with following as a fire damper: All major building codes including IBC/ICC International Code, UL 555 Listing 1-1/2 Hour -File #R25410, ULC S112 and NFPA 90A.
Maximum Ratings are 2,000 FPM Velocity and 4.0 inches w.g.
  SUBMITTALS
<!do
See Our Stock Catalog

Sign Up For Our Newsletter

Upcoming Bid Events